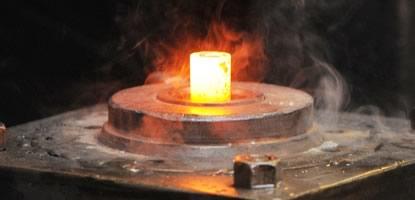 The core business of DELTA METAL. Combining mechanical reistance, material saving and productivity, this method of production suits perfectly to the manufacture of fasteners and is integrated to our production's tool.
Our press machinery covers the majority of our customers' needs. Requiring a high-level of expertise, DELTAMETAL has honed its manufacturing techniques and procedures to suit the requirements of the nuclear field.
Internal management of tooling production allows us to provide a competitive and reactive service.
This process is often required for manufacturing safety parts involved in a critical assembly.
Machinery comprising 6 forging presses including:
3 crank presses from 50 Tonnes to 250 Tonnes
3 screw presses from 300 Tonnes to 500 Tonnes
1 robotic hydraulic press of 300 Tonnes
Heating is performed by induction or electrical upsetting with pyrometric control.
Forging capacity: